ONS data science campus to open in Newport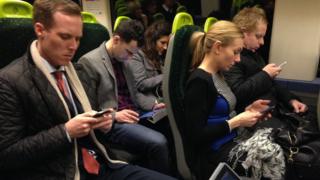 A new economic and data campus in Wales will provide "world-leading expertise in data science", the Office for National Statistics has said.
The new centre of excellence will open on Monday at the ONS' headquarters in Newport.
The project, part of £17m statistics investment, came after Newport was confirmed as the ONS' main base, safeguarding 2,000 jobs in south Wales.
"This is an exciting day," said Tom Smith, ONS campus managing director.
"It will help us provide faster statistics to understand employment, inflation measures, the economy and the society in general using new types of data and new techniques to analyse them."
21st Century data
Mr Smith said the new campus can help the ONS looking at using mobile phone data "to understand commuter patterns" by using GPS in smart phones and picking up data from mobile signals.
"We could aggregate data to get a picture on how are people getting to work and any changes in commuting patterns," he told BBC Radio Wales' Good Morning Wales programme.
"Potentially it could pick up traffic issues which would help longer-term planning and where to build new roads."
Mr Smith said the new data hub means the ONS can use real-time price data from supermarket checkout scanners or online retailers.
"The purchasing data can help get a better handle on what people are buying and costs of those goods," he added.
The ONS said the state-of-the-art hub can help provide statistics for "policy makers and businesses" about the fast-moving UK economy and society.
"We are proud to have recruited the UK's first data-analytics apprentices and, working with academia and business, we are planning more opportunities to train people in these skills that are so important for the UK's decision-makers," added Mr Smith.
The new campus has been welcomed by Cardiff University and innovation expert Rick Delbridge said the investment will complement the university's social science research park, adding there would be "major opportunities" for the two institutions to work together.