Cut to black bin bags collection in Bridgend delayed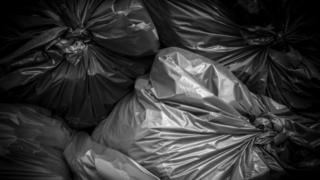 Plans to limit the number of black bin bags people in Bridgend county can throw away have been delayed.
Under the new rules, households can only leave two bags out for collection every fortnight. At present, there is no limit.
The change was due to come in on 1 April, but residents have now been told it will be 5 June.
Households with more than five people will be allowed to throw out more than two black bags.
A report to be discussed by the council's cabinet on 28 March said the delay was down to additional debriefing required to an unsuccessful bidder for the contract.
Once the changes come in, households of five people or fewer will be allowed two bags of non-recyclable waste every two weeks.
Homes with six or seven people can apply for one additional waste bag, with two extra bags allowed for households with eight or more people.
The changes also include new recycling containers and the start of a nappy and sanitary item disposal service.