Cardiff's Entrepreneurial Spark creates 95 jobs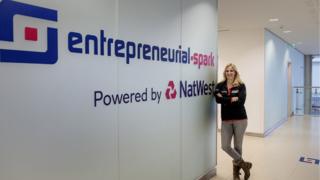 Businesses at a Cardiff accelerator hub have attracted more than £1m in investment and created 95 jobs in six months.
The Entrepreneurial Spark hub opened at Cardiff's Central Square last August and has so far supported 64 businesses.
It provides free support, mentoring networking and office accommodation for entrepreneurs, so they can create jobs and turnover.
Cardiff's is one of 12 hubs across the UK.
Chief executive Lucy-Rose Walker said: "The stats are truly mind blowing and we've enabled our entrepreneurs to create real jobs, huge turnover and significant investment."