Tredegar 'Islamic State terror manuals' accused in court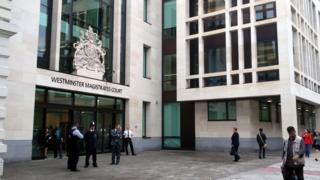 A man accused of downloading so-called Islamic State manuals with advice on how to carry out lone wolf terror attacks has appeared in court.
Nathan Saunders, 23, from Tredegar, was allegedly found with four issues of the Rumiyah publication on his phone.
He was arrested on 8 February and appeared at Westminster Magistrates' Court on Thursday.
No pleas were entered and he was remanded in custody to appear at the Old Bailey on 23 February.
Mr Saunders is charged with five counts of possessing a record of a kind likely to be useful to a person committing or preparing an act of terrorism.
The material allegedly contained details of how to carry out terror attacks, including using a knife and driving a vehicle towards a large crowd of people, the court was told.
A copy of The Anarchist Cookbook was also allegedly found on his phone, containing information on how to make explosive devices.