Spitting Image Neil and Glenys Kinnock puppets up for auction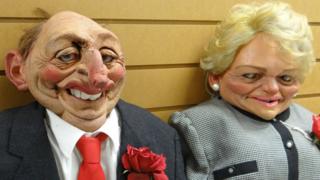 The Spitting Image puppets of former Labour leader Neil Kinnock and his wife Glenys are going up for auction.
Former Islwyn MP Lord Kinnock led Labour from 1983 until 1992 and featured heavily in the satirical ITV show which ran for 12 years until 1996.
It mimicked political figures, including ex-MEP Baroness Kinnock, the Royal family and celebrities.
Both latex puppets will be auctioned in Cardiff on 18 February with a guide price of £2,000 to £3,000.
Auctioneer Ben Rogers Jones said: "Spitting Image is now being seen as a seminal satirical TV show and the Kinnocks were a major feature in the programme as they represented the opposition to Margaret Thatcher's dominant power.
"The political landscape was a lot different back then to how it is now."