Farewell service for retiring Archbishop of Wales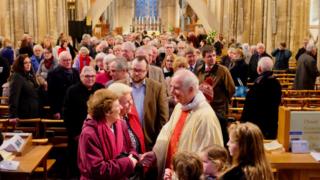 A farewell service has been held in Cardiff to mark the retirement of the Archbishop of Wales and Bishop of Llandaff, Dr Barry Morgan.
The Llandaff Diocesan service on Sunday was attended by more than 500 people at Llandaff Cathedral, ahead of Dr Morgan's retirement on Tuesday.
He has been at the head of the Church in Wales for nearly 14 years - the longest serving in the Anglican Communion.
He is retiring on his 70th birthday.
During the service, Dr Morgan was thanked for his ministry and given a standing ovation by the congregation.
Dr Morgan has supported numerous causes, including same-sex marriage and more powers for the assembly.
In his sermon, he said: "I felt and feel embraced and supported by the clergy and there was and is a willingness to try new things and to think about doing things differently and a preparedness by parishes to work with diocesan officers in setting up ministry areas.
"For all of that, I give thanks. It has been an enormous privilege trying to serve you."
The service began with a procession of about 150 people, including clergy, bishops, canons, lay readers and ecumenical guests.
Paul Marshall of the Church in Wales paid tribute to Dr Morgan and presented him with a gift on behalf of the diocese.
Thanking the Archbishop on behalf of the clergy, the Dean of Llandaff, Gerwyn Capon, said: "The intense level of your commitment to fulfil the charge laid on you when you were consecrated has marked you out as a Welsh bishop of remarkable charisma, courage, wisdom, vision and most of all, humanity."