200-year-old trees illegally cut down in Blackwood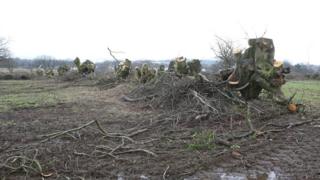 Trees which were up to 200 years old have been illegally cut down in Caerphilly county.
Natural Resources Wales (NRW) is investigating the tree felling in Blackwood where about 200 hedgerow beech trees were cut down.
Action of this kind requires a licence, but NRW said none had been given.
Jim Hepburn of NRW said: "This is a devastating case which will have a terrible impact on the local environment".
The trees would have been about 150-200 years old and standing up to 49ft (15m tall).
Mr Hepburn said they provided valuable habitat for wildlife.
NRW is investigating and said it would "take the necessary action against those responsible".