Ysgol-y-Deri teacher Ben Williams 'left pupils unsupervised'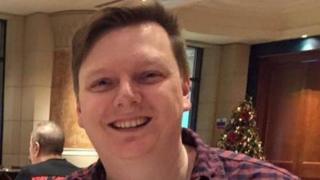 A teacher at a special school in Vale of Glamorgan left three of his pupils unsupervised, a hearing has been told.
Ben Williams, a teacher at Ysgol-y-Deri in Penarth, denies unacceptable professional conduct over three separate incidents in December 2014.
Two involved pupils with Down's Syndrome and the third a pupil with autism spectrum disorder and behavioural difficulties.
The Education Workforce Council hearing in Cardiff continues.
A fitness to practice committee was told Mr Williams was suspended from the school after the third incident at the school, which opened two months earlier, and he was sacked about a year later.
Matthew Richards, representing Mr Williams, said he had been the victim of a "vendetta" by head teacher Chris Britten and governors following earlier disciplinary issues.
A former deputy head teacher at the school, Gail George, said she believed Mr Williams had been set up to fail by Mr Britten.
She said pupils causing long-running difficulties were often moved out of classes but the head teacher had not done so for Mr Williams - even though it was done for the teacher who took over the class afterwards.
Matthew Richards, representing Mr Williams, said: "Mr Williams alleges he's the victim of a vendetta by the head and governors in respect of matters which arose at the end of 2012.
"His case is that he has been singled out for unfair treatment compared to others, that this is personal on the part of the head and that events leading up to the previous disciplinary are relevant as to why the school took the action that it did."
The panel was told a nine-year-old with Down's Syndrome left Mr Williams' classroom at Ysgol-y-Deri without supervision after taking a key fob belonging to a learning support assistant.
She was found a short time later in a sixth form common room and returned to the class but Mr Williams was said to be "quite nonchalant" when told.
Another pupil, also nine and with Down's Syndrome, was allegedly found in a soft play area outside Mr Williams' classroom.
The hearing was also told an eight-year-old with autism and anxiety was found alone in a "breakout room" off a classroom, looking at his iPad, after fellow pupils and teaching staff had gone to lunch.
Mr Williams was said to be "unconcerned" and "unaware" the pupil was missing.
Cadi Dewi, representing Vale of Glamorgan Council, told the panel: "By his actions or lack of actions on these occasions, he allowed these children to leave the classroom unattended.
"As class teacher, he had responsibility for these pupils and we say he failed in that."
The hearing continues on Wednesday.