Academic brands Wales' university mergers 'disgraceful'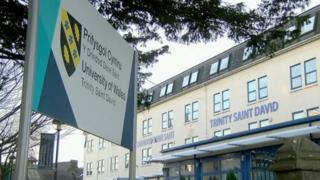 Concerns have been raised over the merger of three universities in Wales.
It was announced in 2011 that the University of Wales would merge with the University of Wales Trinity Saint David and Swansea Metropolitan University.
But two senior academics said there should have been a full investigation.
A University of Wales spokesman said the merger is going ahead as planned and is due to be completed during the 2017/18 academic year.
The merger announcement followed a scandal about the University of Wales' links with overseas institutions prompting calls for the institution to be scrapped.
A paper prepared by Prof Tegid Wyn Jones and supported by CERN scientist Dr Lyn Evans said what happened "was disgraceful".
Prof Jones said: "There should have been a proper investigation as to what had happened and what was the way forward for the University of Wales.
"You don't improve a toxic brand by actually throwing it away."
The academics have also questioned the finances of the University of Wales Trinity Saint David, pointing to its bid for more money for a development which will house S4C's new headquarters in Carmarthen.
Prof Medwin Hughes, Vice Chancellor of the University of Wales Trinity Saint David, told Newyddion he respected that some academics are concerned about losing the University of Wales.
But he said there was an opportunity to develop "a strong Welsh brand".
"It will be very different but we will focus on the values and traditions of the old university," said Prof Hughes.
He also said the merger process started five years ago and the university councils had followed "a very rigorous structure".
Prof Hughes added they were starting the process of discussing the constitutional model and admitted the process had involved a "lot of cleaning up".
But he said they were now at the stage where they could have a "very clear and open discussion".