Cardiff Luke store worker caught selling stolen jackets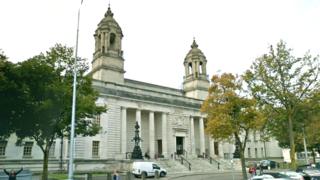 A fashion store deputy manager was caught selling jackets online after stealing them from the Cardiff shop he worked in, a court has heard.
Scott Jones, 28, of Malefant Street, Cardiff, took eight jackets worth more than £1,000 from menswear shop Luke, before trying to sell them online.
He admitted theft at Cardiff Crown Court and was given a 32-week suspended sentence.
Judge David Wynn Morgan said it had been an "astonishing breach of trust".
The court heard Jones, who had been working at Luke in St David's shopping centre as deputy manager for two years, was using a PayPal account to receive the funds after stealing jackets.
But he was caught after the German manufacturer spotted the items for sale in the UK without a proper licence and contacted the store.
They ordered two jackets, then the manager found those jackets missing from stock the next day.
Prosecuting, David Pugh said Jones' manager then confronted him and found five jackets in his locker.
He had managed to sell two jackets for £450, but the other six were recovered.
On Thursday, the judge also ordered Jones to do 200 hours of unpaid work and to pay £590 in compensation and victim service charges.
He said: "Employers must be able to trust their employees. The aggravating factor here is the astonishing breach of trust. You let your employer down in a staggering way."