Two men rescued from sinking boat off Porthcawl coast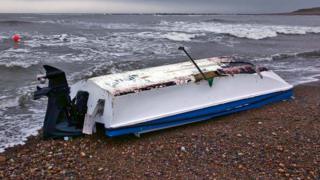 Two men have been rescued after their fishing vessel hit rocks off the coast of Bridgend county.
Coastguards were called to the sinking vessel at Sker Point, near Porthcawl, at about 17:30 GMT on Friday.
They were about 12 miles (19km) off the coast, waves were breaking over the boat and it was taking on water, the Maritime and Coastguard Agency said.
One of the men man is in hospital in a non-life threatening condition.
Lifeboat operations manager Phil Missen said: "Both casualties were extremely lucky to have been rescued in the complete darkness and from the notoriously dangerous Sker Point.
"I dread to think how difficult a search would have been had the casualties not been able to stay with their stricken vessel."