Seal pup found in Cowbridge field seven miles from sea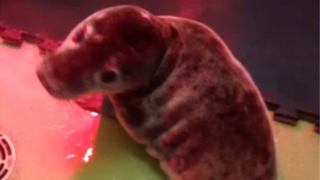 A dehydrated and underweight seal pup has been found in a field seven miles from the sea in Vale of Glamorgan.
RSPCA officers rescued the animal from a farmer's land in Graig Penllyn near Cowbridge on Wednesday.
The charity believes the pup reached the field after swimming up the streams of the River Thaw.
After rehabilitation, it is hoped the pup can be released back into the sea in the near future.
RSPCA officer Gary Lucas said: "I've worked for the RSPCA for almost 30 years and this was my first ever seal rescue - and in quite amazing circumstances.
"As the crow flies, this amazing seal pup was almost seven miles from the sea and must have reached Graig Penllyn after travelling up the tiniest of streams possible.
"Thankfully, whilst the pup was a little thin and clearly dehydrated, he seems to be doing okay."