Arson attack on Roots garden project before Christmas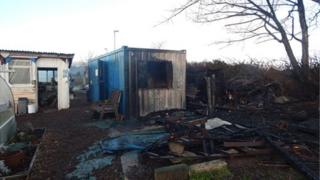 A gardening project for people with learning needs has been targeted just before Christmas - for the second year in a row.
Equipment at Roots in Bettws, Newport, was set alight earlier this week, causing up to £10,000 of damage.
The site is now "in jeopardy" as it is unsafe for trainees to attend, a spokeswoman said, and the matter has been reported to police.
There was a break in last Christmas with £1,000 of property stolen.
"This is devastating news just before Christmas and another attack on the project that has had a spate of petty thefts throughout the year including stolen pumpkins at Halloween," the spokeswoman said.
"Roots was just starting to get back on its feet from some tough times including the break in last Christmas.
"But with some great community support, new maintenance contracts and new developments at the site the project was beginning to grow."
Two wooden sheds have burnt down as well as two rented portable toilets and machinery and equipment has melted.
She estimated the cost of repair would be between £5,000 and £10,000.
"Only two days before Roots were closing for a well deserved Christmas break their Christmas cheer has been brought down," she said.
"This is heartbreaking for the project, not only for the staff and the organisation but mostly for the trainees who attend Roots, who are sure to be affected by the damage to the project they regularly attend."