Tonypandy burglar steals family's Christmas presents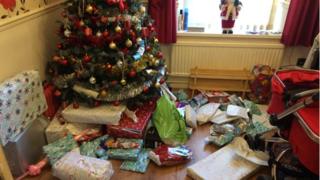 A "callous" burglar has broken into a family's home and stolen their Christmas presents from under the tree.
The culprit left the Christmas paper after unwrapping and stealing £900 in items, including three Android tablets.
Sue Percival's grandchildren and daughter, Steph Summers, found the grim scene when visiting her home at Tonypandy, Rhondda Cynon Taff.
Her four-year-old, Tristan, the first in the house, told her: "Mum, Santa's been. All the presents are open."
Grandmother-of-seven Ms Percival said: "We are devastated.
"I had finished all of my Christmas shopping because I started it in September.
'Carnage'
"They stole the presents, including the electronic tablets I bought, all the alcohol and even all of my change that I had put in a coin counter for emergencies.
"The police said they think it is a personal targeted attack and that somebody might had waited for me to go to work."
South Wales Police's Sgt Adam Johnson said the burglar struck on Wednesday between 07:30-11:30 GMT.
He said: "The burglar forced the back door and made a search of the house, spending time to unwrap the Christmas presents which were in the house and choosing to take the high-value items and alcohol.
"The carnage was discovered by the children in the family who have now had their Christmas spoilt thanks to this callous person."
Among the items stolen were three computer tablets, trainers, perfumes sets and a large amount of alcohol.