Epileptic Nantymoel teen's appeal gets 700 birthday cards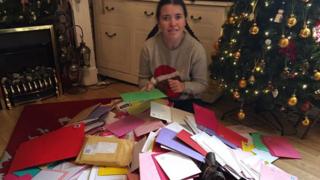 A teenager with epilepsy has received more than 700 cards for her 18th birthday following an appeal by her family.
Holly Benbow, from Nantymoel, near Bridgend, said she did not want any presents but instead asked for cards.
An appeal on social media has seen them sent from across the world, including Canada, New Zealand and South Korea.
Her mother Claire Benbow said: "We never expected anything like this in our wildest dreams."
Holly, who also has autism and global developmental delay, was said to be "so excited" at turning 18 on Monday.
Her sister Amy Lloyd, who started the appeal, said: "Her face just brightened up when she saw all the cards. Her reaction was priceless."
Ms Benbow added: "I can't believe the kindness in people's hearts. We only thought we might get 20 or 30 cards. We are so overwhelmed.
"We are just so grateful to everybody for the lovely cards and the gifts Holly has received and would like to thank everyone."
Holly's second birthday wish was also fulfilled - to go to play a game of bingo.