St Catwg's Church medieval font used as plant pot baptising again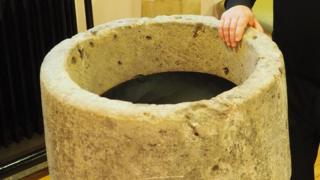 A medieval christening font, found in use as a plant pot, has been used for its first baptism in 150 years.
The reinstatement of the font was a central part of a £78,500 refurbishment project at Grade II-listed St Catwg's Church, in Pentyrch, north of Cardiff.
The historic font was discovered full of plants in a nearby garden.
"We've provided a deeper link with our past by bringing our medieval font back to use," said Rev Michael John.
The refurbishment at the church has also seen new seating introduced and the installation of a new kitchen area for parishioners.
He said the revamped church, which was constructed in 1857, would prove an asset to the village.
"We are fortunate in Pentyrch to have most things a thriving village needs," added Rev John.
"We thought it was vital that we adapt our church to meet the needs of the community today rather than the one that existed over 160 years ago."
The improvements at St Catwg's were funded by sponsorship, the sale of old pews and grants provided through legacies.
The new-look church was dedicated by the Assistant Bishop of Llandaff, David Wilbourne, at a special service.