Church criticised for using donkeys in Cardiff nativity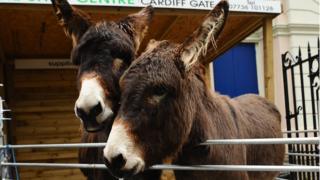 Animal welfare campaigners have accused a church of "Victorian-style exploitation" for using a pair of live donkeys in their nativity scene.
Donkeys Kim and Robin have been part of the annual display in a stable outside Tabernacle Baptist Church in Cardiff city centre for the last six years.
Campaigners have called for the pair to be freed, saying they are kept in cruel conditions.
But Rev Denzil John said the donkeys were well cared for.
More than 1,000 people have so far signed an online petition calling on Cardiff council to free the donkeys and ban the display.
Petitioner Peter Carroll wrote: "This is totally anachronistic Victorian-style animal exploitation for tawdry and vulgar advertising of the worst kind.
"These donkeys are exposed to the busy city Christmas rush in a tiny stall, with many people constantly touching them.
"This is nothing like their proper habitat where they can be comfortable and without unnecessary stress."
But Rev John, minister at the church for 25 years, said the petition was inaccurate and the donkeys were well cared for, warm and had ample space.
"They are never on their own with their carers invariably with them in the enclosure," he said.
"As a church, we support animal rights and would do nothing that might cause distress to any animal in any circumstances."
Donkey keeper Sally Humble-Jackson said: "The donkeys are never left alone - that is our cardinal rule.
"They have a very generous amount of space, about 10ft by 12ft - there is a shelter at the back and a pen at the front so they can move about freely.
"If they want to move away from the public, they can go into the shelter where they can't be accessed by the public.
"But they voluntarily come to the front, they absolutely love the children.
"Donkeys are kind of like dogs, in that they enjoy human company."