Newport childminder Alison Burt-Ryan 'did not harm toddlers'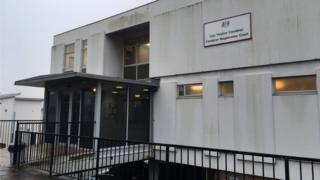 A childminder accused of common assault against two children in her care has told a court she did not harm them.
Alison Burt-Ryan, 46, of Newport, is alleged to have "dragged" one toddler up stairs by the wrists, causing them to have a carpet burn on their face.
She is also alleged to have shoved another child into a chair.
Mrs Burt-Ryan denies two charges and told Cwmbran Magistrates' Court she had neither hidden the injuries from parents or caused them herself.
Giving evidence, she said she took photographs of the children in her care every day to share with parents in a WhatsApp group, so was able to pinpoint exactly when each child was injured.
She refuted the allegation she shoved a child into a chair, and said childminding assistant Donna Stitt, who has made the allegations, was also in the room at that time along with a parent.
Mrs Burt-Ryan said the child cut their lip after putting a toy car to their mouth.
The court heard the child in the second incident had been learning to walk, holding onto chairs and another child had been pushing a wooden toy towards their face.
She said she did not see the child fall but it had a "small red mark" to their top lip that had not been there earlier, adding Ms Stitt was not in the room when that happened.
'Petrified'
Ms Stitt has previously told the court she arrived at the nursery later that day to find a child "very distressed" sitting in a high chair.
But Mrs Burt-Ryan said the child had been "petrified" after her pet parrot "squawked five to eight times really loud".
She denied grabbing the crying child by the wrists but said she held their hands as she "bounced" them from step to step up to bed to try and "change [the child's] mindset".
"That's [the child's] routine, what [they] like, we do it every day," she told magistrates.
Ms Stitt had claimed Mrs Burt-Ryan then returned downstairs, telling her the child would have a carpet burn on their face where she "dragged" them up the stairs.
Again, this was refuted.
The trial continues.