Escort 'boasted about blackmail', millionaire tells trial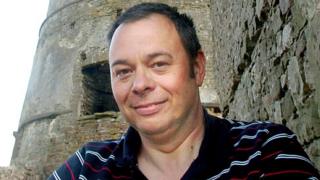 A millionaire businessman accused of murdering his escort lover has told a court she boasted about blackmailing clients out of thousands of pounds.
Peter Morgan, 54, of Llanellen, Monmouthshire, admits killing Georgina Symonds, 25, but denies murder.
Newport Crown Court heard she boasted about "fleecing" her wealthy customers by blackmailing them with sensitive details about their private lives.
Mr Morgan strangled Miss Symonds in January before hiding her body.
The court previously heard Mr Morgan say Miss Symonds threatened to release explicit photos of him to his family if he did not transfer money to her and sign over a bungalow he was letting her stay in rent free.
The property developer said he strangled her with twine to stop her blackmailing him.
He told jurors: "I realised it was going to be blackmail and there was no way I was going to be blackmailed.
"The only way I could think of stopping it was to frighten her."
Mr Morgan said he started throttling the £10,000 a month escort before halting temporarily.
He added: "I did it again but for a bit longer. After the second time she said: 'You're going to pay for this.' That's when I killed her."
The former farmer told the jury on Monday that Miss Symonds had "fleeced" another client out of his life savings.
"I think she said he had about £70,000 in life savings," he said.
He told the court Miss Symonds, from the Allt-yr-yn area of Newport, had talked about other clients she called "Pete" and "nice John" who she said she had "profited" from.
Mr Morgan said she told him about her plans to blackmail another client, who was not named in court.
"She said she intended to demand payments of £2,000 a month. He had been a client of hers, but I don't think she'd seen him for some time," he said.
"It wasn't to do with photos, but she knew a lot of information about him."
The trial previously heard how Mr Morgan strangled Miss Symonds after hearing she had planned to leave him.
Mr Morgan went shopping, to the bank and arranged a skiing trip with a friend in the hours after killing Miss Symonds.
But he said "panic mode set in" when her mother Deborah Symonds called him to say she had not picked up her daughter from school.
Police were called to the bungalow when Miss Symonds was reported missing and Mr Morgan later confessed to killing her.
But he denies murder, saying he was suffering from diminished responsibility due to Asperger's syndrome.
The trial continues.