Missing man Wayne Stirrups found after 10 days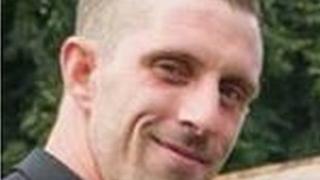 A father of two who went missing for 10 days has been found safe, his brother has said.
Wayne Stirrups, 30, from Canterbury in Kent, told his family he was going to Cardiff to visit his sons, but had not been seen since 17 November.
Jason Stirrups said his brother returned to his mother's house in Canterbury on Monday night.
"Words can't express how I feel. For him to turn up is such a relief," he added.
Family and friends of Mr Stirrups travelled to Cardiff on Sunday to raise awareness of his disappearance and put up more than 1,200 posters in Cardiff, Bristol and London over the weekend.
Jason Stirrups travelled to London on Monday after a phone call from the police saying his brother had been spotted.
While he was in the capital, his brother turned up at their mother's house.
"He's completely fine - now it's trying to work out what went wrong," said Jason Stirrups.
"We're so grateful to all the people who helped, it meant so much to me and my family."