South Wales Police custody 'improved' despite force concerns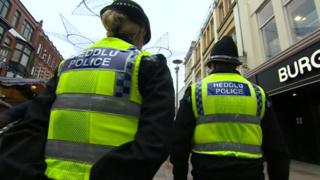 South Wales Police has improved its custody services, despite concerns over how it monitors the use of force, according to a report.
Inspections took place at custody suites in Cardiff Bay, Swansea, Merthyr Tydfil and Bridgend in April.
HM Inspectorate of Prisons and HM Inspectorate of Constabulary looked at treatment, conditions, rights and healthcare.
The force said it had addressed concerns raised since the inspections.
In a few "unacceptable" cases, custody was used as a safe place for a child, according to the report.
But the "leadership and management" of custody within the force were strong and there was a "clear vision" about what was required, inspectors found.
'Area of concern'
The report said the force, which deals with around 40,000 detainees every year, had a "coherent plan for custody" based on making the best use of resources while "providing safe and decent conditions for detainees."
There had also been some "significant improvements" in the way performance was managed and the report said the number of vulnerable adults being detained under the Mental Health Act was reducing.
However, it added: "The positive impact was less clear in relation to children, however, and this remained an area of concern. In a small number of cases, police custody had been used as a place of safety for a child, which was unacceptable."
"Children have long been detained unnecessarily in police custody when there is a lack of suitable accommodation to which they can be taken," responded South Wales Police and Crime Commissioner Alun Michael.
"We have made progress but there is still more to be done because essentially - as with mental health - this is not a police problem but a 'nowhere else to go' problem.
"The days when children or adults were simply thrown into a cell have long gone and the police work closely with partner agencies to prevent vulnerable young people ending up in police custody except in exceptional circumstances."
Inspectors were also concerned to discover that, despite a recommendation at a previous inspection, the use of force had not been monitored until very recently.
"Although we did not discover any serious adverse findings, there had been no assurance that force was used safely and proportionately," the report said.
'Significant changes'
Concerns were also raised about the way detainees were booked in and advised of the reasons for their arrest, contrary to legal requirements, with the approach towards dealing with complaints "inconsistent and confusing".
"Overall, this was a positive inspection and significant progress had been made in key areas within custodial services," said Martin Lomas, Det Ch Insp of Prisons, and Dru Sharpling, HM Inspector of Constabulary, in a joint statement.
Assistant Chief Constable Jeremy Vaughan said South Wales Police custody staff work in "one of the most challenging of policing environments".
"Since this inspection in April, our custody services have undergone significant changes which have addressed many of the areas of concern and improvement raised by HM Inspectorate of Prisons and HM Inspectorate of Constabulary." he added.