Blackmail accused Farhan Mirza denies laptop video claim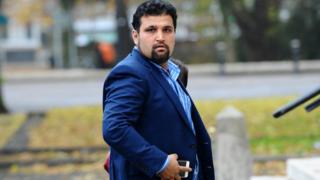 A man accused of blackmailing three women with intimate pictures has denied trying to "obtain as much money and possessions as possible" from his alleged victims.
Farhan Mirza, 38, of Abertillery, Blaenau Gwent, denies voyeurism, theft, fraud and blackmail.
One alleged victim claimed she found images of naked women on his laptop, including a video of herself.
He told Cardiff Crown Court the alleged victim was lying "100%".
Mr Mirza is accused of taking secret pictures of Muslim women because of the "embarrassment" they would have felt if the images had been sent to their families.
Prosecutor Tim Evans suggested he operated a "blackmailing business" with a picture of himself in a medical uniform used to "impress" women.
The defendant denied sending a text saying "I'm training to be a surgeon", adding the picture was a joke and he bought a stethoscope online for £2 as a "prank".
However, Mr Evans said it was not a joke but a technique for "preying" on "women who had money available to bankroll him".
He told the jury he was "acting in the witness box" as if he was "carrying out his performance at the New Theatre".
'Sexual videos'
Under cross examination, it was put to the defendant that he would threaten his alleged victims with "revolting" images if they tried to stand up to him.
He said he was the one being threatened.
Mr Mirza told the court he had "sexual videos" on his phone, but not his laptop because he used it for "university assignments".
He has also spoken about his previous marriages, saying he was married for a week but his wife did not want to live with his child in the UK so that ended.
He also said he was married for three days - previously he said one day - to his cousin, but she left him for another man in Dubai.
He said his current marriage was "totally arranged" and his wife had moved back to Pakistan, which was why he had been looking for other women.
The trial continues.