More charges in Farhan Mirza sex blackmail trial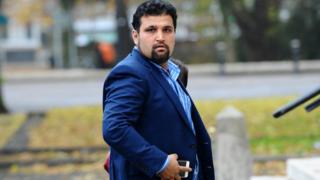 A man on trial accused of blackmail and voyeurism will also face sex attack charges, a judge has ruled.
It is claimed Farhan Mirza, 38, filmed women exposing their bodies without their knowledge before demanding money.
The college worker from Abertillery, Blaenau Gwent, has pleaded not guilty to two additional indecent assault charges, after a complainant said she had been touched without consent.
He has also denied all other charges against him, including theft and fraud.
The new claims against the defendant came during prosecution evidence to the jury.
An alleged victim told the court that she was touched on the "upper-inner thigh" while they were sitting on a bench.
It is also alleged the defendant took hold of her hand and placed it on his trousers without her consent while they were sitting in a car.
The judge allowed the new charges to be added to the indictment after an application from the prosecution.
During the week-long trial, Mr Mirza has been described as a "sexual and financial predator".
Jurors were told his alleged victims, who are all Muslim women, were targeted because of the "terror and embarrassment" they would have felt.
A complainant said she feared reprisals from ultra-religious groups like the Taliban if a video of her was sent to her Pakistani family.
Mr Mirza met some of his alleged victims on the website Shaadi.com, which describes itself as the world's biggest match-making website.
Giving evidence on Monday, another of his alleged victims told the court that he had claimed he was a surgeon, and had "two sides to his personality".
She said the defendant was "very manipulative" but could also be "polite and angelic".
Asked why she did not question him further about being a surgeon, she said: "If he's telling me something and it is on his profile, why would I test that."
The trial is continuing.
Charges
Voyeurism, between 1-29 Feb 2012
Voyeurism, between 1-31 March 2013
Voyeurism, between 1-31 May 2014
Blackmail, 15 July 2013, demanded a medical certificate
Blackmail, between 1-31 Aug 2013, demanded £500
Blackmail, between 1-31 Oct 2013, demanded £2,000
Blackmail, between 1-31 Dec 2013, demanded handbags, clothing and cutlery
Theft of a laptop between 11 January 2014 and 1 March 2014
Fraud between 10-22 Dec 2013 - told a woman he was a doctor of medicine
Indecent assault, two charges that he touched a woman without consent