CJ de Mooi: Ex-Eggheads star may sue after killing arrest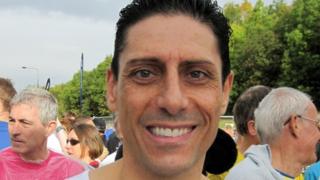 Ex-Eggheads star CJ de Mooi may launch legal action after an arrest warrant for an alleged killing was withdrawn.
His spokesman said Dutch authorities withdrew the European Arrest Warrant for the former model on Thursday.
Mr de Mooi, 46, who lives in Caldicot, Monmouthshire, hopes to repair the "enormous damage" caused, the spokesman added.
In Mr de Mooi's 2015 autobiography, he said he may have killed a man in 1988 while living rough in Amsterdam.
Last month, Mr de Mooi said he would "continue to co-operate with the Dutch authorities" after a failed extradition bid.
The ex-quiz show panellist, whose real name is Joseph Connagh, was accused of manslaughter, murder, assault and battery.
A statement issued on his behalf said: "The Dutch prosecutor Ms Hoekstra has today withdrawn the European Arrest Warrant that was incorrectly issued against CJ in May of this year, that related to an alleged incident in Amsterdam almost 30 years ago.
"CJ is obviously pleased but not surprised at this outcome and will now be exploring his legal options going forward and examining the processes undertaken that resulted in this warrant being issued at all.
"CJ is now keen to start to repair the enormous damage sustained to his reputation as a result of the issuing of this warrant and the headlines subsequently generated."
Mr de Mooi said he was approached by a man with a knife, so he punched him before throwing him into a canal in 1988.
In his book, he wrote: "He caught me on the wrong day and I just snapped. I fully suspect I killed him. I've no idea what happened to him."
Mr de Mooi, originally from Barnsley, South Yorkshire, adopted the name de Mooi when modelling.
He became a panellist on Eggheads in 2003 after winning a series of game shows.