Barry machete man who cut off friend's ear is jailed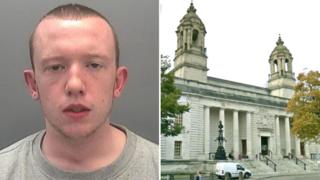 A Vale of Glamorgan man who chopped off a friend's ear with a machete in woods has been jailed for seven years and four months.
Declan Gallagher, 22, of Barry, turned on Tyler Mills when the pair got into a row during birthday celebrations.
Gallagher admitted causing grievous bodily harm at Cardiff Crown Court and was jailed on Wednesday.
Judge Michael Fitton QC said the injuries he inflicted were "extremely shocking".
The court heard a group of friends had taken the machete to go drinking in woods to mark Mr Mills' 20th birthday near their homes in Barry.
But the conversation took a "turn for the worse", with Gallagher speaking "aggressively" and Mr Mills suggesting he should leave, prosecutor Gareth James said.
'Psychological damage'
Mr James said Gallagher turned on his friend and hit him repeatedly with the machete.
He struck Mr Mills on the left side of his neck, chopping part of his ear and leaving a 10cm (4in) cut which needed stitches.
Hillary Roberts, defending, said Gallagher's "mind had been altered" by cannabis and alcohol and the attack had not been planned.
Judge Fitton told Gallagher: "The injuries you caused were extremely shocking.
"Mr Mills has suffered emotional and psychological damage as well as physical damage as a result of this."