Coed Eva Primary School arson: Arrested teen released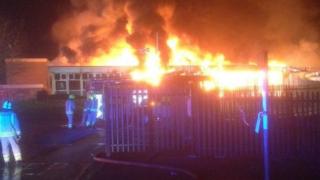 A 15-year-old boy who was arrested following an arson attack on a Torfaen school has been released without charge.
The fire on 1 January destroyed the nursery and infant classrooms at Coed Eva Primary School, Cwmbran.
The teenager, together with six others, was arrested on suspicion of arson with intent to endanger life.
The others, two aged 15, two aged 19, a 16-year-old and a 21-year-old, were released without charge last month.
A reward of up to £5,000 is being offered by Crimestoppers for information about the fire that leads directly to an arrest and conviction.