Poppy tins stolen from Maesteg ex-servicemen's club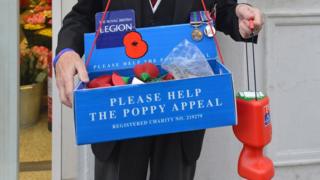 Police are investigating the theft of Poppy Appeal collection tins from a Royal British Legion club on Armistice Day.
Two burglars broke into the club in Maesteg, Bridgend, in the early hours of Friday morning.
They stole about six collection tins, a jar full of staff tips and money from a fruit machine.
South Wales Police said the culprits were "disrespectful" and "callous" and had caused a "great deal of distress".
Club chairman Robert Lambert said he thought the burglars had got away with about £300.
"When my stewardess came in to open up, she saw glass all over the floor. She got in touch with me straight away and she was very, very upset," he said.
"They came in through the back door and only took what cash was available - the poppy boxes, a tips tin from behind the bar and then they managed to get downstairs and demolish the bandit [fruit machine].
"I was shocked to see that the legion had been targeted because it's a club that helps the ex-servicemen. Everything here is as cheap as chips and everything we try to do is for the members and the wider community."
A page has been set up on a charity donation website to try to replace some of the money stolen.
A spokesman for South Wales Police said: "This burglary has caused the staff, the club and committee members a great deal of distress, with it being Remembrance Day.
"It demonstrates how disrespectful and callous these criminals are, acting in this manner, on such an important day."
Anyone with information is urged to contact police on 101, quoting reference 1600436766.