Cardiff's 'artificial' Christmas tree made in China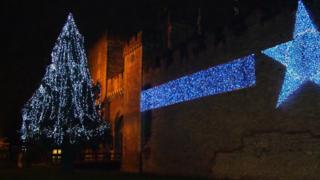 The Christmas tree that will take centre stage during Cardiff's festive celebrations will be an artificial "structure" made in China.
Cardiff council was criticised for not having a tree up in time for the Christmas lights switch-on on Thursday.
The authority said it had leased a pre-decorated 40m (131ft) tall "tree-shaped structure" for the next three years.
It will not go up until 25 November as it is being shipped from China.
In a statement, the council said the Christmas tree, covered in golden baubles, should be a "spectacular addition to Cardiff's Christmas offering".
The tree, on a three-year lease from UK-based company MK Illuminations, will arrive with all the decorations pre-attached.
Last year, insurance company Admiral sponsored the main tree outside Cardiff Castle, which was up in time for the city's Step Into Christmas event.