Cardiff University opens doors to youngsters with autism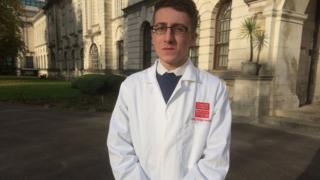 Youngsters with learning disabilities and conditions like autism have been given training for different jobs at Cardiff University.
Twelve students from Cardiff and Vale College are on internships until June.
They are spending time in offices, laboratories and catering departments.
Cardiff is the first Welsh university to get involved in the SEARCH project, launched in the USA 20 years ago, to give work opportunities.
SEARCH started in Cincinnati and encourages universities and other employers to help people with different disabilities.
Cardiff and Vale College's Tom Snelgrove said there are about 180 youngsters there who have additional learning needs ranging from severe cases to those with dyslexia.
'Role model'
He called those spending time at Cardiff University "the tip of the iceberg", saying others are currently learning skills to help them engage better or spending half-days with employers.
The university has committed to taking 12 youngsters annually for the next five years to help them find full-time employment either there or outside.
Deputy vice chancellor Prof Elizabeth Treasure said: "We feel, as the biggest employer in Cardiff, this is something we should be doing to give opportunities to as many people as we can.
"Hopefully, we can be a role model for other employers and they will start doing similar."
Shane Halton, 18, is currently an intern in the chemistry department and is conducting risk assessments and updating spreadsheets and user manuals.
"Getting a job at the end of it is my aim and getting experience towards getting a job," he said.
Hollie Newbury, 21, an intern in the university's human resources department, said: "I didn't know what it would be like but I've been filing and I'm enjoying it."