Family draw 'sand field' of remembrance at Porthcawl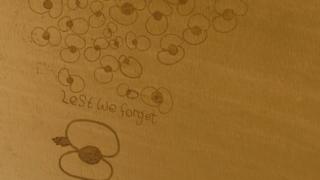 A mother and her seven children have drawn a field of giant poppies in the sand at Porthcawl beach to mark Remembrance Day.
Deborah Hitchins, 43, took rakes to the beach to make the giant sand field of remembrance.
Ms Hitchins, of Caldicot, Monmouthshire, marks Remembrance Day each year by doing an activity with her children.
"It gives us an important opportunity to open discussion," she said.
Her children Sam, 24, Abigail, 19, Elis, 12, Eden, 11, Mila, seven, Noah, four, and Arabella, 11 months, all joined in.
Ms Hitchins added: "It is important to explain the significance of why we wear poppies and it was a great way of bringing up the opportunity of talking about things around Remembrance Day.
"They were also very proud of their work and it was great to see."