Barry 20-tonne wood fire extinguished after 16 hours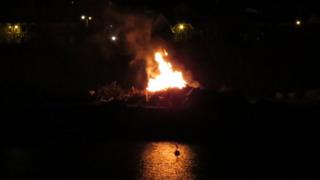 A fire involving 20 tonnes of wood on the waterfront in Barry, Vale of Glamorgan, has been put out after burning for more than 16 hours.
Firefighters were called to the blaze on wasteland near Charles Darwin Way at about 18:00 GMT on Friday.
Crews had to temporarily stand down to let the wood pile burn because it was too dangerous for them to tackle.
But it was extinguished at about 10:00 on Saturday morning and builders were on standby to clear the material left.