18th Century Cardiff water pump recreated in 3D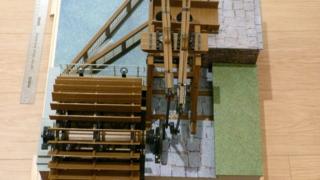 An 18th Century Cardiff watermill has been recreated as an example of how technology from a previous age can be brought back to life using new media.
A 3D printer was used to create a model of the Melingriffith water pump, used at Whitchurch's tinplate works.
It was exhibited at the annual conference of the Industrial Archaeology and the Inland Waterways Association in Inverness.
It was the subject of talks on how complex structures can be recreated.
Roger John produced the 3D image of the water pump that was designed in 1793 to pump water from the Melingriffith tinplate works into the Glamorganshire canal.
It is believed it was replaced in 1807, with the current water pump undergoing renovations in the 1980s and 2008.