Paralysed horse fall teen wins £3m compensation bid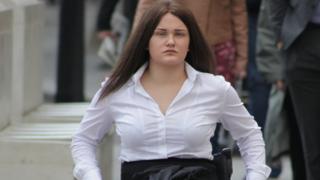 A teenager left paralysed after falling off a racehorse is set to receive more than £3m after winning a High Court case against her ex-boyfriend's mother.
Ashleigh Harris was 14 when she broke her back after falling from Polly Perks, owned by Rachel Miller.
She was riding Polly in a field in Mathern, near Chepstow, Monmouthshire, when she was injured in 2012.
The court ruled Miss Harris, now 18, of Lydney, Gloucestershire, was entitled to full compensation from Mrs Miller.
Miss Harris was left with no function in her legs after the fall.
Judge Graham Wood QC said Mrs Miller, in her 40s, had "encouraged" the teenager to ride the "strong and wilful thoroughbred" and exposed her to a risk of injury.
He said Miss Harris first rode Polly "briefly" on 15 September 2012 when Mrs Miller went to view the horse in Abergavenny, before eventually buying the animal for £550.
The teenager was a "competent novice", who had a lot of experience riding ponies but had never ridden a horse before.
The judge said Mrs Miller had "limited knowledge" of Ashleigh's riding experience, although she knew the youngster had done more riding than she had.
Polly, he ruled, was "a green, unresponsive and uneducated horse who, by her very nature, as a thoroughbred racehorse, would be strong, potentially wilful and difficult to control."
Mrs Miller had made a "serious error of judgment" in buying the "unsuitable horse" in the early stages of her riding hobby, he said.
"Being committed to this type of horse, and taking the step of acquiring Polly very cheaply, she has convinced herself that there were no problems with the horse, when in fact there were, and it should have been known by her as difficult to manage, even for a competent novice rider," he added.
On 22 September 2012, Miss Harris was taken to the field by Mrs Miller, along with her then boyfriend Keiran and his sister Sammy.
Using Mrs Miller's body armour, as she did not have her own with her, the teenager set up and mounted the horse and began walking, then trotting.
The judge accepted Miss Harris's account that, while she was riding the mare, the trot turned into an "uncontrollable canter" and she was "suddenly and unexpectedly unseated".
'Dire financial consequences'
Mrs Miller's account of what happened was "implausible" and that she was an "unreliable witness", he added.
He also rejected evidence given by Keiran Miller that he had seen the teenager ride bareback, and that she had "waxed lyrical" about riding Polly after the Abergavenny trip.
The judge said: "By positively encouraging Ashleigh to ride the horse and condoning, if not specifically instructing, a trot in an open field for the first time, Mrs Miller was exposing her to a risk of injury from a horse which could not be controlled in other than the most benign of conditions.
"In my judgment, it was reasonably foreseeable that the horse would be strong and difficult to control, and in certain conditions likely to unseat a rider who was not used to managing a horse bred to race and trained to gallop."
The judge said that, while Mrs Miller was insured, it was only for a limited amount and she therefore faces "dire financial consequences" as a result of his ruling.
The final amount of Miss Harris's compensation has yet to be assessed but her lawyers say several million pounds will be needed to pay for a lifetime's care.
Mrs Miller will also have to pay the legal costs of the case, which are expected to be another six-figure sum.