Nadine Aburas hotel murder: Sammy Almahri given life term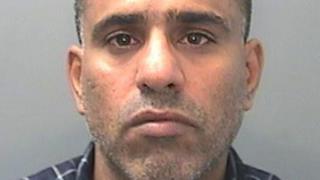 An American man who murdered a Cardiff woman in a hotel before fleeing to Africa has been given a life sentence and must serve at least 17 years.
Sammy Almahri, 45, admitted murdering Nadine Aburas, 28, at the Future Inn in Cardiff Bay on New Year's Eve 2014.
He claimed the voice of God told him to kill her.
Sentencing Almahri at Cardiff Crown Court on Thursday, Judge Nicola Davies told him the killing was "prompted by jealousy and anger".
She added: "In taking the life of this 28-year-old woman you have deprived her family of a beautiful, loving daughter, sister and aunt.
"Your actions will impact on Nadine's family for the rest of their lives. Their loss is immeasurable."
The court previously heard after killing Ms Aburas in room 203 of the hotel, the New York native took her car and drove to Heathrow airport before flying to Qatar.
He was eventually found and arrested in Tanzania.
Prosecutor Roger Thomas QC said an aggravating factor of the case was when Almahri appeared to tell police Ms Aburas had killed herself because of the terrible life she had led.
Almahri had "longstanding, maladapted patterns of behaviour", was cold and callous and may have derived gratification from the killing, according to a psychiatric report.
He also showed signs of dissocial personality disorder and it was likely he was jealous and possessive in the couple's relationship.
John Charles Rees QC, defending, described the couple's relationship as stormy and said Ms Aburas was "strong-willed, confident and not one to shy away from a confrontation".
He told the court Ms Aburas went to the hotel room to return Almahri's passport and said the American was "not a person who has used frequent, serious violence".
The pair met on internet dating site, MuslimMatch.com, in 2012.
Almahri visited Cardiff in 2013 and became "besotted" by Ms Aburas, showering her with money and expensive presents.
But things soured in 2014 when he discovered she had been seeing another man.
When she returned from a trip to New York, she had an injured lip and told police Almahri had raped her and she feared he was going to show topless photos of her to her family, the court heard.
He sent her abusive texts and messages, including a voice message saying: "I have been calling you a lot. I will never ever stop now or give up. I will harm you."
The judge added there was a lack of premeditation and at the time of the killing Almahri suffered from a mental disorder.
But she added: "At the time of the killing you had drunk a considerable amount of alcohol which would halve increased your impulsivity, emotional instability and aggression."
After sentencing, David Wooler, senior crown prosecutor for Crown Prosecution Service Wales, said: "Sammy Almahri's callous and brutal actions took that future away from her and left her family dealing with the immense distress that resulted from her loss."
South Wales Police Det Ch Insp Gareth Morgan said: "He [Almahri] took refuge in Tanzania where he continued to taunt the police and the family and friends of Nadine with telephone calls and messages exacerbating their grief.
"By fleeing to Tanzania, Almahri thought that he would avoid having to take responsibility for this abhorrent crime."
In a statement read to the court, Ms Aburas's mother Andrea Aburas said: "No-one has really asked who Nadine was. She was a sister to six and an aunt to nine. Nadine was a ray of sunshine to everyone in her life.
"There is a huge void left in all our lives and she can never be replaced. She was very talented to the point we were in awe of her.
"Nadine won over the hearts of everyone she met daily.
"I couldn't bear to think what must have even going through her mind when he took her life.
"We allowed him [Almahri] to come into our family and he took our child. He made us wait two years to grieve for our child. He has destroyed us."