Grangetown firework youths 'attack Cardiff fire crew'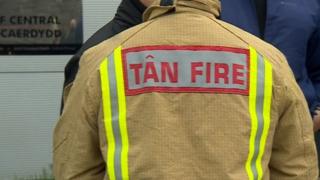 Youths twice attacked a Cardiff fire crew with fireworks as they tried to put out a bonfire in a Grangetown park.
A crew was called to Grange Gardens on Pentrebane Street at 20:00 GMT on Tuesday.
But a South Wales Fire and Rescue Service spokeswoman said it withdrew after being "confronted by a group of youths who started to throw fireworks".
The service said it would look at CCTV from the engine and give it to South Wales Police.
South Wales Fire said the firefighters put out the bonfire after police helped disperse the group.
But as they returned to base, they stopped to extinguish a second bonfire at Grange Gardens and were "once again confronted by the same youths throwing fireworks".
A South Wales Fire and Rescue Service spokeswoman said: "We will now investigate the incident by looking at the CCTV footage from our appliance and hand the evidence to South Wales Police who can find the culprits."