Defence Secretary: No delay in £3.5bn armoured vehicle scheme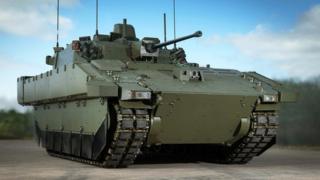 A £3.5bn programme to build the British Army's new armoured vehicle in south Wales will not be held up by glitches with its weapons system, the defence secretary has said.
Sir Michael Fallon insisted work on integrating the weapons system for the Ajax was running on time and on budget.
It came after The Times reported there were delays due to issues with its gun and a shortage of funds.
Sir Michael told the Commons Defence Committee it was "running on schedule".
Last year, General Dynamics was awarded a £3.5bn Ministry of Defence contract to deliver 589 Ajax vehicles - which were originally designed in Oakdale, Caerphilly county.
They will be built at a disused forklift truck factory in Merthyr Tydfil creating 250 jobs as well as supporting another 2,800 posts across the UK.
A report in The Times on Tuesday suggested issues with its gun, including the integration of the cannon with a specially-built turret, were causing delays.
Sir Michael rejected this, as well as reported suggestions defence insiders thought the vehicles would be "useless" against anything more than "incompetent enemies".
He told the Commons Defence Committee: "These are not tanks and they're not going to be used as tanks, and you shouldn't expect them to have the armour that tanks do.
"We believe Ajax is the best in class and the use of manoeuvre, and well-practised drills for example should reduce the threat of direct artillery fire.
"I would also just add, in respect to the article this morning, that the qualification of the weapons system and the integration of the weapon into these vehicles is running on schedule at the moment and it is running to budget."
Work on building the first Ajax vehicles will begin next year and the 40-mph machines will become the first fully-digital armoured fighting vehicle in UK military history.
The first of the vehicles - which come in six "variants" - is expected to be completed in 2018.
The first Army units will then receive the vehicle by mid-2019 and they will be ready to deploy from the end of 2020.