Barry illegal rave death and arrests after 2,000 attend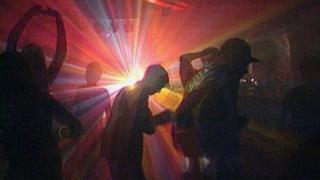 A man died and two people were arrested on suspicion of drug offences following an illegal rave on the weekend, police have said.
About 2,000 people attended the event at a disused warehouse on Hayes Road, Barry, Vale of Glamorgan, with officers called early on Sunday.
The death of a 45-year-old man from Torbay in Devon is being investigated.
South Wales Police said the death is not being treated as suspicious.
The force said said raves were "a problem nationally" and it monitored the Barry event "through the night".
Supt Martin Jones said: "Those involved in organising them go to great lengths to prevent the authorities from finding out about them.
"On this occasion, there was no national intelligence that an event was due to take place, and our priority once it was detected was to safeguard those in attendance as well as minimise the disruption to the local community."
However, he stressed officers do have the power to close events down, seize equipments and make arrests.
There have been a number in Wales this year, including a three-day event in Ceredigion in June.