Aberfan: Prince Charles' message anonymously returned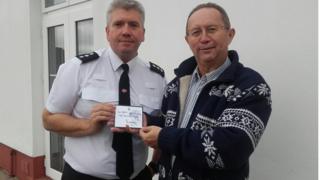 A message on a wreath left by Prince Charles on the 50th anniversary of the Aberfan disaster has been returned.
The Prince of Wales laid the tribute in the cemetery where some of the 144 victims of the tragedy are buried during the commemorations on Friday - but the note was gone on Sunday.
On Friday, it was anonymously returned to South Wales Police.
David Davies, chairman of trustees at the Aberfan Memorial Charity, described the return as a "pang of conscience".
He said: "On the one hand I'm sad that someone decided to take it in the first place.
"But I'm glad that they had a pang of conscience, possibly prompted by the comments on social media."
After the note disappeared, Prince Charles sent a replacement message. Both notes will be placed in a commemoration book which will go on display at Aberfan library.
South Wales Police said the note was contained in a package anonymously delivered to them.
Ch Insp Marc Lamerton said: "We are grateful that whoever took this realised the distress it was causing to the community of Aberfan and have seen the error of their ways and returned it to its rightful owners."