'Barry Eye' trademark name warning from London Eye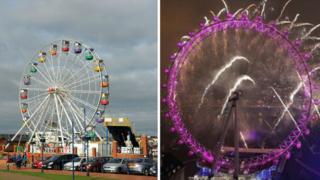 The owners of a Vale of Glamorgan fairground ride dubbed the "Barry Eye" have been issued a warning by London Eye bosses that the name infringes on a registered trademark.
The wheel, at Barry Island Pleasure Park, is known as the "Eye" by locals.
But its owners said the ride did not have an official name.
Merlin Entertainments Group said it implied a connection with the London Eye, which it said would benefit the attraction in Barry.
Owner Henry Danter said: "We are flattered that such an internationally-known company is interested in the progress of Barry Island Pleasure Park.
"We are a goldfish in a bowl in comparison with Merlin who are the whales in the ocean."
He said he would take legal advice on what he could call the ride.
A Merlin spokeswoman said: "While it's pleasing The Eye trademark has such broad appeal, we wouldn't want to confuse people and therefore came to an amicable agreement with Mr Danter not to promote it as such.
"We wish him and his venture every success."