'Dangerous' grass stops post deliveries in Pontypool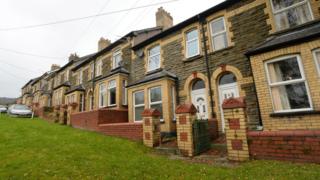 Royal Mail has stopped postmen delivering letters to a row of houses in Torfaen because walking on a grass verge has been deemed "too dangerous".
The health and safety ban came about after one postman complained about Severn View, Pontypool, on his round.
Bosses agreed a short stretch of grass between car tracks and residents' front doors was unsafe so the 10 homes need to collect mail from a Post Office.
Royal Mail said it would carry out a further "safety assessment".
Resident Richard Osborne, 70, said: "We still get all of our junk mail through the letterbox but anything important like the deeds to my house, are sitting in the Post Office, it's unbelievable.
"They even refuse to put slips through your door for parcels that are too big and need collecting - how will you know that if they don't put the slip through the door?"
Councillor Gwyneira Clarke added: "I can't believe it, how on earth can they allow this to happen and treat elderly people like that? We can't take away vital services, it's not right.
"It's safe enough for all these elderly people to walk up and down the road, and in my experience they deliver to some pretty remote places. Its health and safety gone mad."
Royal Mail apologised for the inconvenience caused.
A spokesman said: "We will conduct a further health and safety assessment of the area as soon as possible and notify customers of the outcome.
"In the meantime, customers can continue to collect their mail from the local Post Office."