Creigiau quarry expansion plan is given go-ahead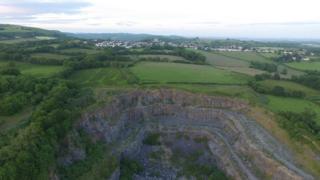 Plans to reopen and expand a limestone quarry in Cardiff have been approved by the city council.
Opponents argued Tarmac's plan for Creigiau Quarry would cause pollution and gridlock on roads.
But the proposals were passed at the council's planning committee meeting on Wednesday.
Tarmac said it was to committed to quarrying in a way that minimises environmental effects.
The Stop Creigiau Quarry group had claimed that country roads would become "no-go zones" with lorries taking up access routes.
Residents were also worried that dust and noise from the quarry would affect children at Pentyrch Primary School, which is just two fields away from the site.
Tarmac has said it was happy with the planning committee's decision.