Ynysybwl animal rescue centre forced to close by council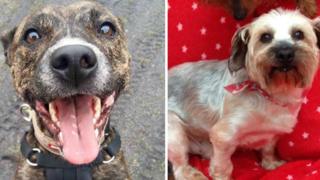 An animal rescue centre in Rhondda Cynon Taff has been forced to close in a row over planning.
Friends of the Animals RCT's only shelter on Daren Ddu Road, Ynysybwl, was handed an enforcement notice by the Welsh Government planning inspectorate.
Founder Eileen Jones, said: "We have been threatened with court action if we continue our life saving work."
The council said the centre was operating without the necessary planning permission.
Ms Jones said: "The planning department has deemed that our cat pens are too large, there is potential for noise and potential for smell.
"It's breaking my heart because we know some of the animals are going to die."
She described some of the animals, which include a paraplegic dog which moves in a specially made cart, as "completely unhomeable."
A spokesman for the council said: "Following complaints from local residents, investigations established that the Friends of the Animals RCT were operating without the necessary planning permission."
The notice said all animals and out-buildings must be removed and the centre's service stopped altogether.