Cardiff Contemporary: Russian artist 'becomes Welsh'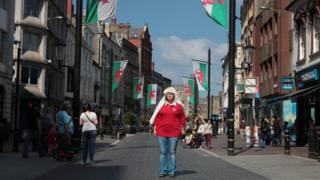 A Russian artist has documented her attempts to become "adopted Welsh" as part of an arts festival.
Jana Romanova, a photographer and artist based in St Petersburg, crowdsourced ideas asking: "If I was to become Welsh, what would my future here look like?"
The responses led to her singing in a choir, playing rugby and becoming a local schoolteacher.
Her photographs are being exhibited as part of Cardiff Contemporary.
Speaking to BBC Radio Wales' Good Morning Wales programme, she said: "I decided to come and ask people, can I become Welsh?"
"To my surprise, most people said yes, and then started to give me instructions on how to do that."
She added: "Everyone, absolutely everyone, told me about being a rugby fan."
The exhibition is currently on display at 11 High Street in the city centre.