Sŵn Festival celebrates 10 years of music in Cardiff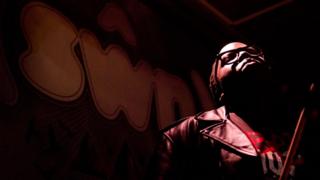 Sŵn Festival has been celebrating its 10th anniversary this weekend in the Welsh capital.
The Cardiff festival has been a stage for talented up-and-coming bands from across Wales, in English and Welsh.
The event was founded by BBC Radio 1 DJ Huw Stephens and music promoter John Rostron.
Mr Stephens said: "Sŵn Festival has been a huge celebration of music for a decade in Cardiff, showcasing Welsh and touring bands."
This year's line-up includes Cate Le Bon, Gwenno and We're No Heroes.
Mr Rostron said: "We put on hundreds of bands at the point when they're just getting going; when they're small but brilliant, and you can see them upfront and close with next to no idea who they are.
"How we made it to 10 years I really don't know, but it's joyous to have got here."
As part of the celebrations, the festival is working with Cardiff University to research the "festival experience".
A pop-up Sŵn Music Museum in the Castle Arcade has invited local gig-goers, venues and bands to share music memorabilia.