Teenagers and two men arrested after Newport 'disorder'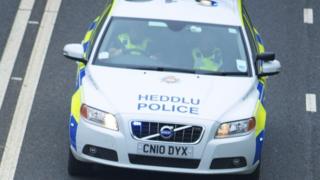 Six people have been arrested after reports of disorder in Newport.
Patrols are continuing following the incident at Commercial Road, Pill, at about 20:35 BST on Thursday.
A 16-year-old boy, a 20-year-old man and a 17-year-old girl were arrested for breaching a dispersal order to tackle anti-social behaviour.
Two 13-year-old boys and a 24-year-old man were also arrested on suspicion of violent disorder.
Police and fire crews attended the scene, and the incident was over by 23:00. Officers said no one was injured.
Newport city council leader Debbie Wilcox has called a meeting on Monday with police and fire services to discuss the incident, saying residents' safety was a "priority" and the "negative actions of a small group of people will not be tolerated".
Gwent police local policing commander Glyn Fernquest said: "We are taking this incident extremely seriously.
"I want to send a warning to anyone intent on causing trouble that you will be arrested."