Woman injured by firework through letterbox in Rhymney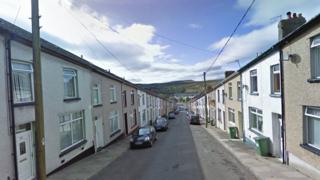 A 39-year-old woman has been injured after a firework was put through the letterbox of a house in Rhymney.
The woman suffered stomach injuries and was taken to Prince Charles Hospital, Merthyr Tydfil.
Gwent Police have appealed for information following the incident in Lady Tyler Terrace, which happened just before 22.00 BST on Tuesday.
Inspector Ian Muirhead said: "I want to emphasise that incidents like these can carry a prison sentence on conviction."
He added: "These sorts of crimes are reckless and what some people think may be a bit of fun can lead to lives being put at risk with devastating consequences for the people living within the home."