Sammy Almahri trial: 'Jealous' killer heard 'voice of God'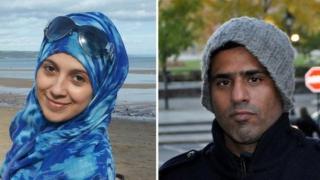 A "jealous" American man who claimed to work for the FBI strangled a woman in a Cardiff Bay hotel room, a court has heard.
Sammy Almahri has admitted the manslaughter of Nadine Aburas, 28, who was found dead at the Future Inn on New Year's Eve, 2014.
But the 44-year-old denies murder on diminished responsibility grounds.
Cardiff Crown Court heard on Wednesday he killed her because the "voice of God" told him to do it.
The court heard how the door was locked, with a "do not disturb" sign on the handle, before Ms Aburas's body was discovered in Room 203 of the hotel.
Mr Almahri had left the scene in her car and travelled to Heathrow airport, before flying to Qatar via Doha.
He was eventually found in Tanzania and arrested on an Interpol arrest warrant.
The jury heard a post mortem examination found Ms Aburas's body and face had 17 marks, abrasions and bruises, including a bite mark on her forearm, and pressure had been applied to her neck and face.
Roger Thomas QC, prosecuting, told the court: "He deliberately strangled her, fled the scene, and left the country to avoid the consequences of his own actions.
"He admits the killing, but claims he was suffering an abnormality of mental function.
"We submit this was the deliberate killing of a defenceless woman by a jealous, angry and, indeed, dangerous man."
The court heard Ms Aburas met Mr Almahri on internet dating site, MuslimMatch.com, in 2012.
Even though he lived in the United States, a relationship developed through phone calls and Skype and he visited Cardiff two or three times in 2013.
In the summer of 2014, she visited him in New York and the friendship developed into an intimate relationship, the court heard.
However, jurors heard that when she returned from New York she had an injured lip and it appeared she been subjected to violence.
Ms Aburas reported to police in Cardiff that, while she was in the US, Mr Almahri had raped her and tried to strangle her.
She also feared he was going to show topless photos of her to her family, the court heard.
Mr Almahri is said to have sent her threatening and menacing texts in the months that followed, with the defendant jealous she had been seeing other men.
The court was read voice messages he sent to Miss Aburas. One said: "I have been calling you a lot. I will never ever stop now or give up. I will harm you."
'Aggression'
The jury was told Mr Almahri had a dissocial personality disorder which meant he had "low tolerance to frustration and a discharge of aggression including violence".
He jumped off of the Brooklyn Bridge on 4 August 2009, and was put on an alcohol treatment programme as a result.
On 27 December 2014, Mr Almahri arrived at Heathrow, where he was met by Ms Aburas, with the couple travelling back to Cardiff the next day.
The court heard the pair were seen shouting and arguing at the Lilo Grill House in City Road before they went to the Future Inn, where Mr Almahri was staying, on the night before Ms Aburas's death.
She was caught on CCTV at about 23:15 BST - the last time she was seen alive.
The next day her body was found with a handwritten note on the bedside, supposedly signed by Ms Aburas, reading: "Sorry we came to an end."
The court heard Mr Almahri phoned the hotel the next day and asked: "Have you found the body in room 203?"
He continued to text Ms Aburas's friends and family from her phone while on the run.
The defence claim Mr Almahri suffers from schizophrenia and so is guilty of manslaughter, not murder.
The trial continues.