Caerphilly man fined for clown costume outside school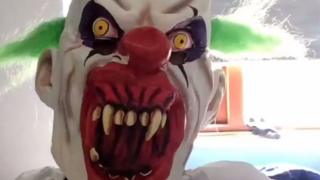 A man has been fined for dressing in a clown's outfit and intimidating children outside his former Caerphilly school.
Connor Jones, 18, from Penyrheol, was fined £90 for a public order offence after he was seen taking part in the "creepy clown" fad near St Cenydd Comprehensive School.
It will go on his criminal record.
Clown sightings have been reported across Wales with police forces warning of arrests for scaring people.
Officers were called after a man in a clown's outfit was seen "intimidating" children outside the 1,000-pupil St Cenydd and neighbouring Hendre infants school.
Parent Dai Evans, 34, said concerned teachers moved children away, adding: "There is a time and place to have a laugh and a joke - but not outside a school."
'Strong message'
Mr Jones was described as wearing a black and white jumpsuit with a snarling scary mask and green hair.
He was given the fixed penalty notice by Gwent Police who said it will go on his criminal record.
Mr Jones accused a friend of "grassing him up", adding: "I'm not afraid to make enemies. I've paid my £90 and that's it."
Chf Insp Paul Staniforth said: "Gwent Police will not tolerate such behaviour and anyone seeking to cause distress and potential harm to anyone will be dealt with.
"I hope this result sends a strong message to anyone thinking about taking part in this craze, that their five minutes of what they may think is fun really isn't worth it."