Market could close as part of £4m Maesteg town hall revamp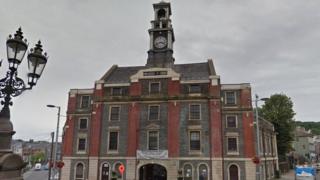 A £4m plan to regenerate Maesteg town hall would lead to the closure of the building's indoor market, traders have said.
Stall holders said they were "shocked" the scheme had been approved by Bridgend council, which aims to convert the market into a library.
Council leader Mel Nott said the plan would create a "fantastic facility".
He said the Grade II-listed building needed a "vast amount" of repairs or would have to close.
Indoor stall holders would move to the outdoor market, which recently received a £2.5m refurbishment.
'Stay calm'
In a statement on Facebook, Maesteg traders said: "The traders are shocked at this outcome considering many questions were raised by both the community of Maesteg and the traders here and these have still yet to be answered.
"We ask for everyone to stay calm as we come to terms with this decision and decide our next steps."
Awen Cultural Trust, who run the 135-year-old town hall on the council's behalf, want to turn the building into an "all-new arts and culture hub."
A glass atrium would be being added, alongside a new performance space and meeting and conference facilities, as well as a new library.
Mr Nott said Maesteg "will always be a market town."
He added: "The council and Awen Cultural Trust want to use this as an opportunity to safeguard the town hall's future by accessing funding that will provide Maesteg with a fantastic new community facility, restore the building's structural integrity and help strengthen the overall regeneration of the town.
"Unfortunately, in order to deliver this major project, the focus of the market would need to be shifted to the outdoor area.
"I know that this will cause unavoidable disruption."
Library closures
Under the plans, existing libraries in Maesteg Sports Centre and North's Lane would be closed.
It is estimated the work could take up to 18 months.
Indoor market traders would be offered "alternative accommodation" and "transitional rents".
Mr Nott said a new £25,000 town hall signage project would be "repositioned" in the event of redevelopment.