Bridgend Ford: Bosses and Unite union discuss plant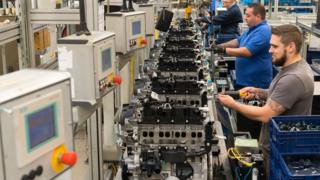 Private discussions on the future of Ford's Bridgend plant were held on Friday.
Unite union general secretary Len McCluskey met with James Farley, chairman and chief executive of Ford Europe, BBC Wales understands.
It was over growing concerns the plant will not be financially viable when it stops making Jaguar and Ford Sigma engines in 2019.
It currently employs about 1,850 people.
Ford announced it will cut production of new petrol engines and investment at the plant.
The American car firm said it did not plan job losses and still had a "substantial commitment" to the factory.
Speaking after Friday's meeting, Mr McCluskey said: "Our concerns in relation to Ford's commitment to its UK plants, and in particular to the Bridgend engine plant, were set out today.
"It was a frank exchange of views, but Unite impressed upon the Ford team that the UK plants deserve a bright future."
Mr McCluskey will report back to Ford's Unite members about the talks and the next stages in the coming weeks.